Hi,
Today I am focussed on the DSM concept. I think Linn has again hit the bulls eye with this concept. Apart from Linn's own active speakers you see more and more active speakers come on the market place, some even with DSP's and other fancy options. Speakers like Cabasse, B&M (Backes & Muller), Grimm, ME Geithain and ADAM come to mind.
It seems like
the
concept for the 2010-2020 era to have one integrated streaming / amplifying concept with two active speakers with room correction. One device, two speakers. I don't have it but I have to admit that I like the idea.
Most of us know about the Devialet. But of course this includes a power amplifier so not really comparable to the DSM's. For the rest I wouldn't know which device competes against Linn's fantastic DSM products. I have focussed mainly on the Akurate and Klimax segment.
Now I have found a device that looks like good competition. The AudioNET DNP.

This device has everything to be competitive with the Akurate and Klimax. With 9600 EUR the price is in between.
Stereoplay has this points category for streamer / pre-amps and here the DNP comes directly under the Klimax DSM.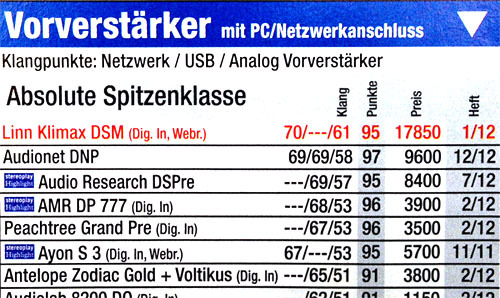 This is the AudioNET website:
http://www.audionet.de

/
The device is packed with expensive components and the first reviews are very promising.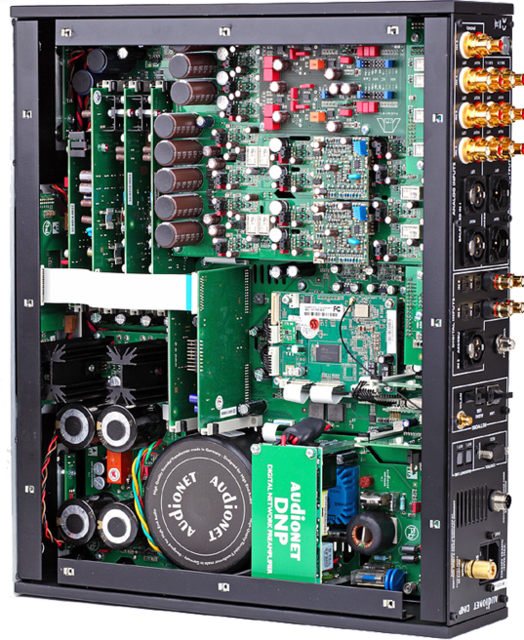 Here is the test from Stereoplay.
http://ebookbrowse.com/audionet-dnp-ster...d453379530
And for those of you who understand German:
this
is a one hour review. This guy is really positive. He is trying to find negative points but is not succeeding as it comes to sound quality. He is not too enthusiastic about the control software. That's all.
Again, a promising device!
I hope HiVi user will test this unit or the pure streaming version next to the new T&A and Marantz streamers.