Since this forum is mainly about sound,I thought it a good idea to list some of my best SOUNDING music in audiophile terms. Unfortunately that means no Robert Johnson, Louis Armstrong's Hot Seven,Charlie Parker, Pablo Casals, Art Tatum, Heifetz.........since the recording quality of these albums is not outstanding.Luckily I do own a number equally good but well recorded music in various formats.
1. Andre Heuvelman; After Silence
2.Carmen Gomes; Thousand Shades of Blue
3. Paul Berner Band; Road to Memphis
After some consideration I decided to be bold and put three of my Sound Liaison Studio Master downloads at the top of my list.
These 24/96 Hi-Res WAV files has a depth and a natural decay combined with a warm wide sound stage, which none of my other recordings can touch. Not bad for small independent label.
Andre Heuvelman's After Silence is a stunning prove that he most be one of the worlds foremost trumpet players. I only have this download for a few days now, but it is so convincingly recorded and produced that I had to put it on top.
Carmen Gomes knows how to move you with out having to use any of the cheap effects so many singers are constantly using putting them self above the music, not here, this is straight from the heart. She turns Chris Isaac's ''Wicked Game'' into a hauntingly beautiful song of desperate love and despair. True Mastery.
Monty Alexander trio alumni, Paul Berner, has made an achingly beautiful ''Americana'' jazz album, with reed player Michael Moore in top form, practically speaking to you with his clarinet and saxophone. The album employing two guitars and no drums makes Bill Frisell come to mind. The interplay between the two guitars is incredible.
Sound Liaison;
Sound Liaison
4. Doug Macleod; There's a Time
5. Minnesota Orchestra; Symphonic Danses
6. Albert Fuller Bach and Rameau
Equally good are Keith Johnson's Reference Recordings.
These were my top audiophile musics until Sound Liaison came along.
The Doug MacLeod album has a similar sound as Carmen Gomes "Thousand Shades of Blue"album, deep, warm and very natural. If it wasn't for the fact that Doug's voice is moving ever so slightly from left to right in the stereo image, that album would have been at no. 1 or 2 together with Carmen Gomes.
The Minnesota Orchestra's recording of the Symphonic Dances is simply the best recording of a Symphony Orchestra that i own.
Albert Fuller's lovely recording of Bach and Rameau's Harpsichord music is also on the list. I f you think that you do not like the sound of a Harpsichord, check this one out, you'll be surprised.
7. Keith Jarrett;Live at the Blue Note
8. Bobo Stenson Trio; Serenity
9. Peter Erskine Trio; As it Is
For piano trio recordings these 3 ECM albums are sublime. I know some people adore the old Rudy van Gelder recordings, but the sound of the piano he never got right. ECM does.
http://www.ecmrecords.nl/
10. Joni Mitchell; Travelogue
this is Joni looking back,reflecting, and rerecording some of her best songs, with gorgeous Vince Mendoza arrangements.
Her voice is deeper. more ''lived'' and her phrasing reveals her love of Billie Holiday. The recording is sublime with a BIG sound stage.
Now I will go back in time, analogue time, and the music from these L.P´s will probably be known to must of you in one format or the other.
11. Miles Davis; Kind of Blue. This album needs no introduction. It has stood the test of time and the new remasters sounds even better. Manfred Eicher of ECM says that the sound of that album is what he is TRYING to achieve.
12. Sonny Rollins;The Bridge. Sonny and the late great Jim Hall brings Coltrane and Miles to mind in contrast but maybe with an even bigger mutual empathy.''God Bless the Child'' breathtakingly well played and sounding. Very clear placement of the instruments. That is actually what Sound Liaison and Reference Recordings have reintroduced, a good well defined sound stage. A sound stage where it feels as if one could point a finger and say;
there it is! see the bass at 10 o'clock.
13. Frank Sinatra; Only the Lonely. This must be the album that inspired the engineers of the ''Travelogue'' album and is in my opinion Frank Sinatra's best recording.
14. George Shearing with Nancy Wilson; The Swinging is Mutual !
Listen to track 2 side one '' All Night Long''. That song almost,just almost could make me believe that old thick L.P.'s sounds better than true Studio Master hi-resolution WAV file downloads.
15.Monica Zetterlund with Bill Evans; Waltz for Debby. This sweet sounding recording shows what a marvelous accompanist Bill Evans was. The Swedish recording engineers knew what they were doing too, the album has a clearly defined sound stage.
16. Milt Jackson & Wes Montgomery; Bags Meets Wes.
Pat Metheny's favorite Wes album. Again placement and every instrument recorded to it's full potential. The tape machine was not running completely steady so the sound is trembling ever so slightly.
17. John Coltrane; Crescent. So I guess that in order to keep the peace at this forum I better put in one Rudy van Gelder engineered album.
Rudy did know how to record a saxophone and the drums sounds good too, but Rudy's true strength was perfect balance.
18.Bobby Timmons trio; In Person. I love Ron Carter. The sound of a well recorded upright is essential to a good jazz recording, and Mr. Carter's bass is magnificently present here. Talkin' about DEEP bass.
19. Arthur Grumiaux,Bach Sonatas & Partitas. Somehow this recording tell's it like it is: This is the sound of the violin, this is how the Sonatas sound. It is actually just like with Carmen Gomes on the Thousand Shades of Blue album, music first !
20 Holy Cole; Temptation. This is an old favorite of mine. The sound of the bass has not stood the test of time, but the production is incredible.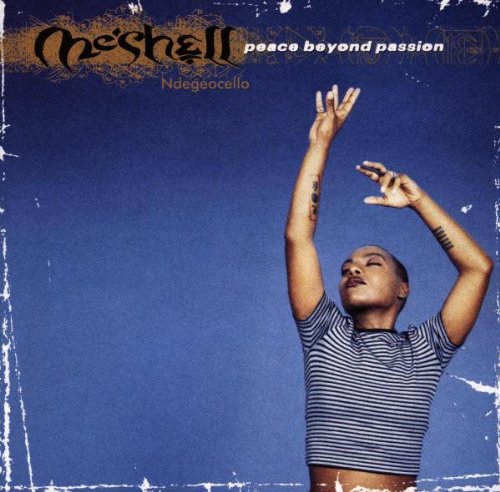 21. Me'shell Ndegochéllo; Peace beyond Passion, again great production and....placement. Unusual for a funk production from this period. Audiophile funk.
22. Dave Brubeck; Time out. Almost forgot this one, that would have been unforgivable. Time out is an Audiophile classic.
oops.... I see I went past my limit of 20 and I did not even get to Mingus;Ah Um.....Steely Dan.... Ray Charles....Claire Martin....